Facets and features
Conga Contract Intelligence combines people, process, and technology into an effortless and accurate contract analytics tool. It automatically extracts and transforms the legal language in contracts into actionable data, ready to be operationalized and distributed throughout an organization.  
Click the links below to jump to a product category:
Digitize contracts | Extraction methods | Risk and obligations 
Digitize contracts 
Conga Contract Intelligence uses artificial intelligence (AI) and machine learning (ML) models to analyze contract documents upon import. It extracts and transforms the data, then tags it in the CLM system so it can be efficiently utilized going forward in searches, reporting, and alerts.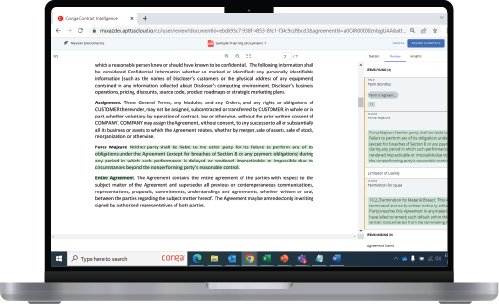 Data extraction methods
With a variety of contracts under management, varying by type, active or matured status, complexity, and degree of risk or importance, we have options for the level and type of data extraction you can choose. Once the results from the contract intelligence are verified, all the data becomes part of the CLM record to be used to drive downstream workflow, searches, reports, and alerts.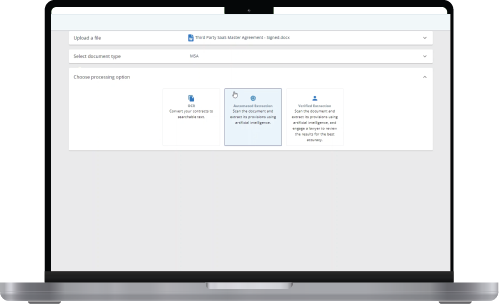 Attorney Verified 

Conga has trained in-house attorneys to conduct automated data extraction reviews as needed.  
Receive the highest accuracy from your data extraction, at nearly 100%, with the attorney verification feature and save time by leveraging Conga to do the intelligence review for you. 

Automated Extraction 

Automated extraction uses AI and ML models to identify the requested data points and convert them into the structured data needed to update the contract and clause records. 
Automated extraction is the first level of data extraction accuracy. Beyond just identifying words in the document, it uses AI to get the meaning behind them and presents that information to you, saving valuable time.  

Optical Character Recognition (OCR) 

OCR turns a PDF image into a searchable document. 
Convert legacy or scanned paper contracts to searchable documents within your CLM repository, gaining critical visibility to the data within.  
Risk assessment and obligation management
Conga Contract Intelligence's risk management allows customers to accelerate their third-party paper review by identifying the risk, scoring it, and providing alternative language to mitigate the risk. Additionally, with extracted obligations tracked within the CLM, customers can more effectively manage and uphold them thanks to clear visibility, reporting, and alerts.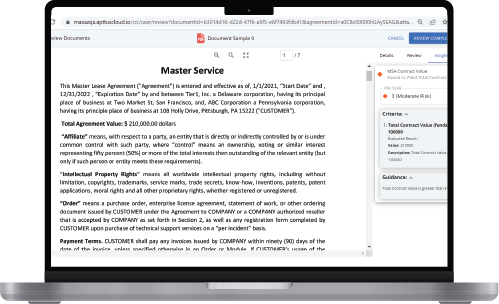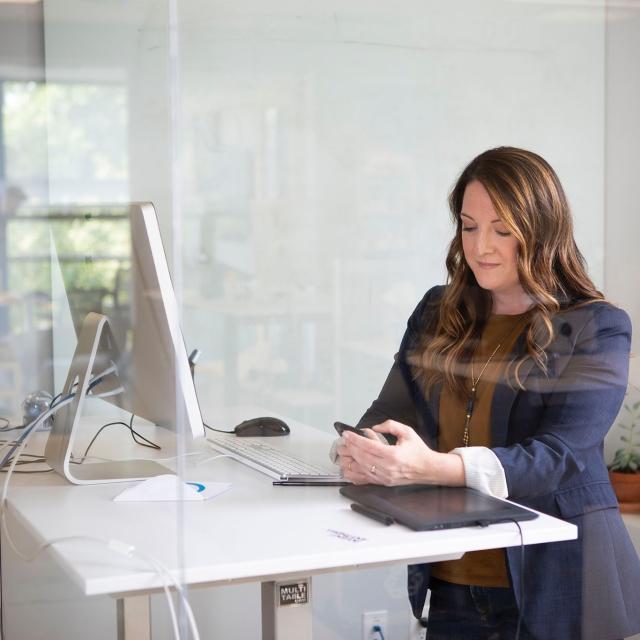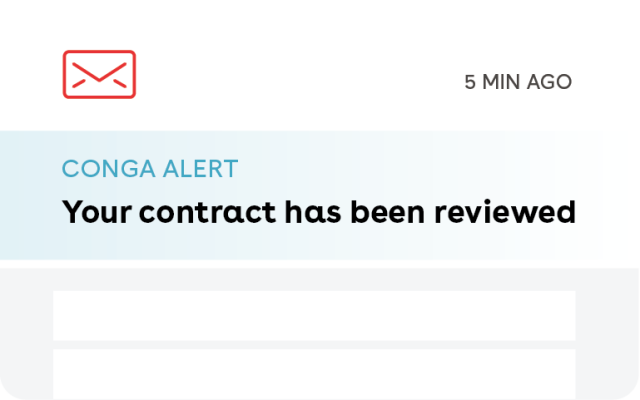 Conga Contract Intelligence for legal
Conga Contract Intelligence quickly extracts, verifies, and distributes actionable contract information that maximizes the value of every agreement. It transforms the data into proactive alerts and tasks that keep you from ever missing an obligation or milestone. 
See how Conga Contract Intelligence can help
Maximize the value of your contracts, meet obligations, and minimize risk—all while saving time.