Salesforce Optimizations
Blog
How winning companies are digitally transforming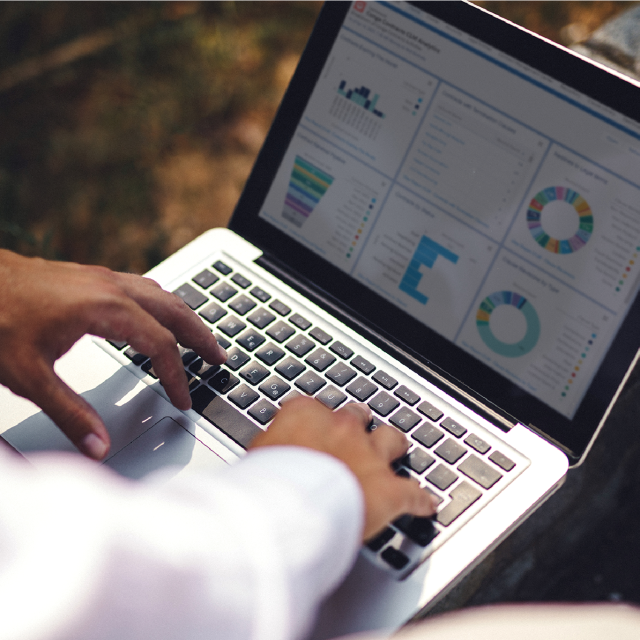 Digital transformation is a top strategic priority for almost every organization. But it can be difficult to understand exactly what digital transformation is all about—and it's even harder to get it right.  
How are top companies succeeding in their digital transformation journey when technology is constantly changing and the pace of innovation continues to accelerate? 
In our recent report, State of Commercial Operations transformation, we surveyed business decision-makers across North America, Europe, and Australia to understand their digital transformation strategy and what sets winning companies apart from the pack.  
Our results show that, while successful digital transformation remains elusive for many, there are clear benefits for organizations that succeed and lessons to be learned from those winning companies. 
Digital business transformation is a journey—not a destination
Digital transformation or, more specifically, digital business transformation involves more than just applying technology solutions to existing business processes and problems. It's a strategic, holistic approach to integrating technology into all areas of business.  
True digital transformation fundamentally changes the way an organization thinks, behaves, solves problems, and delivers value to its customers. It requires not only technological evolution but also a shift in corporate mindset to embrace change, challenge the status quo, and continually experiment. 
SAP's Digital Transformation Executive Study reports that digital transformation leaders focus on true transformation, avoiding piecemeal changes and instead embracing a cross-organization approach designed to enable constant change. 
The path to digital transformation will look different for every company, but that doesn't mean it can be taken lightly. In fact, digital transformation is a necessity for any modern business seeking to grow and thrive amid today's constantly changing market conditions.
The COVID-19 pandemic has only accelerated the need for digital transformation. Almost overnight, companies found themselves facing an increased need for remote work, transformed customer expectations, and greater demand for efficient, cost-effective business processes.  
Digital transformation is the key to optimizing all these areas, so it's no surprise that nearly three-quarters (73%) of our survey respondents report an accelerated digital transformation strategy due to Covid. 

Winning companies succeed at digital transformation—and more
Digital transformation is a core business initiative that encompasses every industry, vertical, and geographic region.  
Our research shows that nearly every organization—99% of global companies surveyed—has a digital transformation strategy in place, up from 97% in 2019.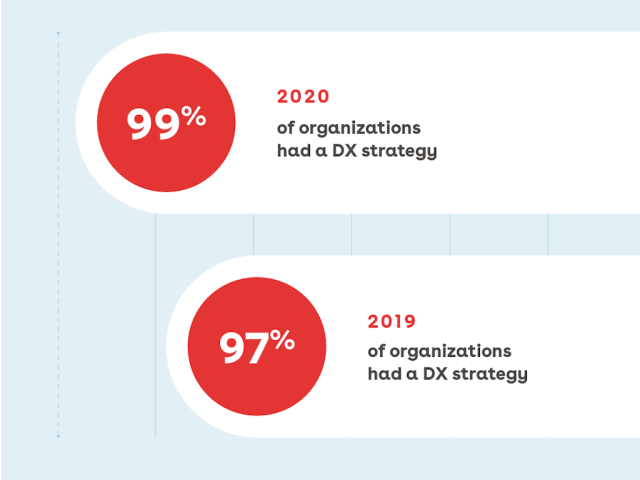 Yet successful transformation is a work in progress for many organizations. Only 50% of survey respondents describe their digital transformation initiatives as "mostly successful.
At Conga, we find that that a company's digital maturity is one important factor in digital transformation success, and we've developed a framework to help assess business readiness for long-term transformation.
Digital transformation is linked to revenue operations success
Our data shows that overall business results also share a close correlation with digital transformation success.
Companies achieving significant increases in specific areas of revenue operations (like profit, growth, and total revenue) are more likely to also report success in their digital transformation journey. 

Additionally, a focus on commercial operations technology is common among winning companies.  
Businesses with significantly greater profits and revenue are more likely than the average company to report that they have fully implemented technologies like CLM, CPQ, eSignature, AI and machine learning to further their digital transformation.
The benefits of digital transformation are worth the effort
While many companies have not yet reached their digital transformation goals, it's clear that even limited success delivers notable business benefits.  
Almost every organization surveyed (99%) has seen at least one significant benefit from their efforts to digitally transform.  
The most cited digital transformation improvements include: 
Greater workforce efficiency  
Greater information security  
Cost savings  
Increased collaboration  
Increased customer satisfaction 
It's interesting to note that some of these benefits—like workforce efficiency, information security, and collaboration—are more frequently listed among the top today than they were in our 2019 survey. These areas have been especially critical to continued business success during the COVID-19 pandemic, which may explain why organizations are now assigning them greater value.  
SAP's recent study found that among digital transformation leaders, several additional benefits are common. 
85% of leaders say transformation efforts have increased market share 
Leaders expect 23% higher revenue growth in the next two years 
80% of leaders say transformation has increased profitability 
It's clear that companies are more committed to digital transformation than ever before—yet achieving success remains a challenge. There are many lessons to be learned from winning companies in the continued quest for effective digital transformation—but even slight progress leads to measurable benefits.  
Read the full report - State of Commercial Operations transformation, for more data and detailed analysis on digital transformation strategy and outcomes in 2021.  
For practical advice and tips to shape your digital transformation journey watch our recent webinar: What's next: how to deliver a successful digital transformation