Abiomed automates multiple processes, boosts efficiency with Conga
Conga Composer and Conga Contracts for Salesforce help Abiomed enhance sales forecasts and streamline contract negotiation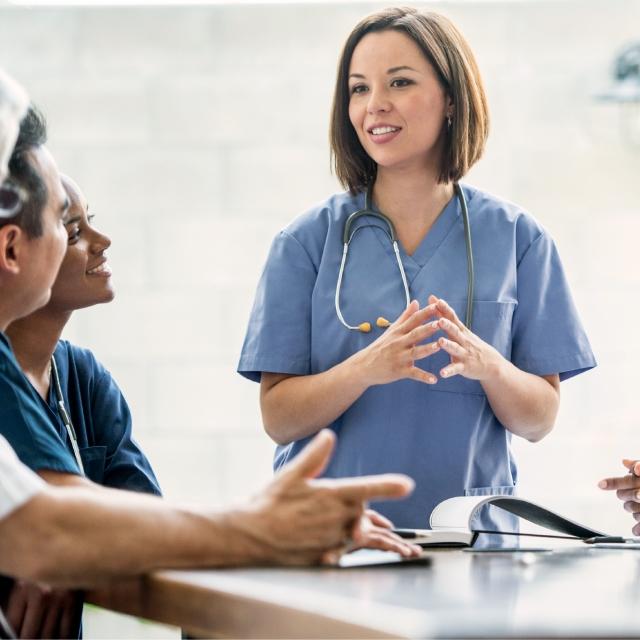 A healthcare innovator, Abiomed manufactures and sells medical devices which provide partial circulatory support. Abiomed's sales organization was looking to improve the sales experience and streamline laborious processes for forecasting, product program reviews, regional reports, field service documentation, and to manage contract terms and conditions. Leveraging Conga Composer and Conga Contracts for Salesforce, while using Salesforce CPQ for the quoting process, Abiomed slashed the time reps spent creating weekly sales updates, accelerated the contract negotiation process, and reduced sales process cycle time.
Stats/Summary
Slashed time spent developing weekly sales forecast presentations
Accelerated process for contract negotiation
Reduced sales process cycle time
Challenge
Like many sales organizations, Abiomed tracks sales performance and adjusted sales forecasts on a weekly basis. Reps would face the challenge of extracting their Salesforce forecast and entering it into a particular graphical format each week in PowerPoint. The time spent manually managing this process took precious hours away from our customers and patients. The process was time-consuming and also was imperfect and prone to human error. At times the reps would turn to corporate sales for assistance, when faced with conflicting priorities.
That wasn't the only highly manual task in the sales organization. The company also was looking to streamline and accelerate the quote-to-cash process.
Solution
Having heard of Conga Composer, Suzan O'Leary, Project Manager at Abiomed, requested a demo. "The automation of Conga Composer was exactly what we were looking for," O'Leary said. "That is the way you want to review sales data." She was able to present a proof of concept to quickly gain stakeholder buy-in for Conga Composer and thereafter, Salesforce administrator Thap George crafted the ultimate solution—so that outgoing data appeared in beautiful graphs. Conga Composer quickly became the solution for a variety of business challenges.
Results
Whereas previously reps would spend their time in frustration, manually updating and creating the weekly forecast, with Composer they could now generate their forecast with just a button click. Composer merges all relevant data and generates the output in seconds.
Another powerful use case for Abiomed is in a customer-facing business review process. Similar to the forecast use case, the sales representative just clicks a button—and the output document summarizes certain pieces of information, merges messaging slides, and generates the document that they can step through with the customer at key intervals of the cycle.
"From there we became huge Conga fans, because there are many use cases where we want to merge Salesforce data into elegant output documents," O'Leary said. Abiomed wanted to generally streamline processes and was open to new ways to do that. Composer quickly became a go-to solution for various document pain points throughout the company.
After a number of successful Composer implementations, the company began to focus on automating the quote-to-cash process. Abiomed was already in the process of implementing Salesforce Quote-to-Cash (formerly Steelbrick), when they discovered a new product from Conga: Conga Contracts for Salesforce. "We saw we could leverage Contracts for Salesforce and our existing Composer templates within Salesforce QTC," O'Leary said.
For use with Conga Contracts for Salesforce, Abiomed developed a dynamic template with conditional fields in Composer, and integrated electronic signature. "We found that Conga Contracts for Salesforce provided the best way to create the quote documents we wanted, and lets us work within the process we want to have," O'Leary said. "We've been impressed with what we've seen so far from Conga."
As a growing company, Abiomed wanted to transform the quote process to scale globally and reduce process cycle time via an implementation of Salesforce CPQ. One piece that CPQ did not offer was an easy way to manage the negotiations of contract terms and conditions.
"Conga Contracts for Salesforce does exactly what we need," said O'Leary. "It is simple and easy to use. The design of the Contracts for Salesforce negotiation process tracks the email sends throughout the negotiation process as Salesforce activities, captures the changes via versioning, and provides a very intuitive 'true-up' function to produce the final agreed upon set of clauses in the contract for final signature."
Abiomed has integrated electronic signature, which also integrates with Salesforce and ensures the contract process is streamlined from start to finish.
In all, Abiomed has leveraged Conga to automate numerous processes, including sales forecasting, customer business reviews, regional report cards, the field services depot application—and Composer with Conga Contracts for Salesforce for quote generation and negotiation.
"We love Conga," O'Leary said. "We've been able to provide powerful solutions to the business with its products. And using Composer with the Conga Contracts for Salesforce product, we were able to deliver a fully robust Salesforce CPQ quote process to accelerate sales."