CLM
Industry insights
Analyst report
Aragon Research Globe™ for Workflow and Content Automation, 2023
Conga named a leader in The Aragon Research Globe™ for Workflow and Content Automation, 2023. See where we stack up in the WCA market.
In this download, we'll cover:
How vendors are making a difference in workflow and content automation
How the advent of AI-based generative content has altered document generation
The current and future state of content automation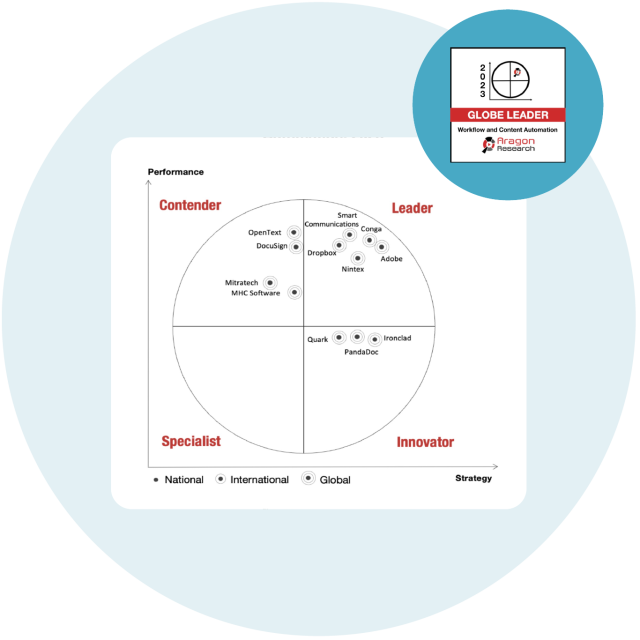 The Workflow and Content Automation (WCA) market is swiftly advancing toward higher levels of automation, driven by the integration of generative content. This shift underscores a noticeable trajectory toward both rules and intelligence, requiring less extensive manual involvement in document routing for transactions. This comprehensive report by Aragon Research serves to highlight those leading the charge in this transformative journey. 
With the advent of AI-based generative content, content automation has evolved to enable the creation of more sophisticated and compelling documents with more personalized and engaging content. This enhances document quality and enables organizations to scale their content creation efforts more efficiently. 
Aragon Research predicts that custom generative content models that leverage bring-your-own-data will be the focus of content automation. And, by utilizing their own data, organizations can create models that are tailored to their specific needs and requirements. 
Aragon reports that Conga Revenue Lifecycle Management offers capabilities and has more of its own content AI to analyze contracts, streamline workflows, and proactively provide actionable insights and recommendations to users.  
To learn more about generative AI, content automation, and and to see why Conga is named a Leader in Contract Intelligence, read The Aragon Research Globe™ for Workflow and Content Automation, 2023. 
Copyright ©️ 2023 Aragon Research Inc.and/or its affiliates. All rights reserved. Aragon Research and the Aragon Research Globe are trademarks of Aragon Research Inc.