CLM
CPQ
Document Generation
Blog
The quote-to-cash process explained: Steps, benefits, and more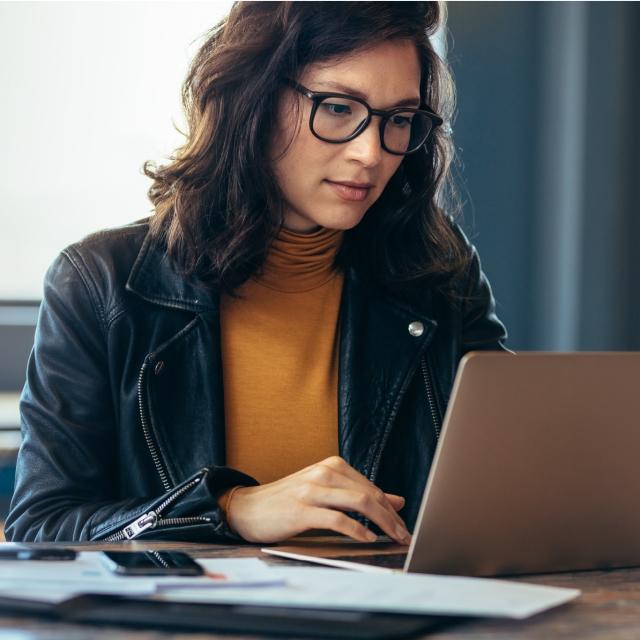 Quote-to-cash (often abbreviated as QTC or Q2C) is an important set of business processes that span the entire sales cycle. QTC involves a variety of activities and many departments across the organization—which has traditionally led to unnecessary siloes and inefficiencies. Fortunately, today's technology makes it possible to streamline and automate the QTC process, increase efficiency, and drive better business results. 
 
What does quote-to-cash mean? 
The term quote-to-cash is used to describe the end-to-end business processes that begin with a customer's intent to purchase (the quote) and end with the realization of revenue (the cash). QTC is vital to driving revenue for the entire organization, encompassing functions across sales, account management, legal, order fulfillment, finance, and accounts receivable. 
Quote-to-cash is often confused with order-to-cash (OTC), but the two terms actually describe different parts of the sales cycle. OTC starts when an order is received from the customer, while QTC also includes quoting and contracting activities that happen before an order is placed.  
What is the quote-to-cash process?
The QTC process is an important one. It touches every part of a business transaction, from configuring a quote and drafting a proposal to the receipt of payment for goods or services rendered. Simply put, the QTC process connects a customer's intent to buy to a company's realization of revenue, spanning the entire sales, contract, and customer relationship lifecycles. 
Historically, these processes have been disconnected and siloed because they've been managed in multiple files and systems. As a result, sales cycles often involve a lot of manual tasks and inefficiencies—ultimately putting both deals and customer experience at risk.    
Optimizing these highly collaborative aspects of your business brings visibility throughout your organization, speeds up sales cycles, and closes a higher percentage of your deals.  
A 10-step guide to QTC 
QTC may look different depending on your industry and company structure, but it tends to follow the same basic sequence. In general, the QTC process can be broken down into 10 steps: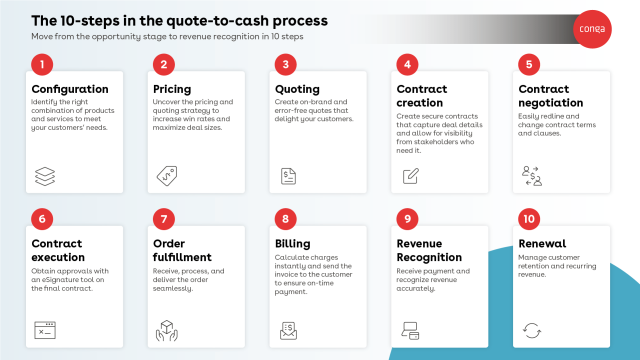 1. Configuration 
The first stage in the QTC process is configuration, where the goal is to identify the right combination of products and services to meet your customers' needs.   
In the modern business environment of increasing product and deal complexity, recommending the right combination of goods and services to the customer is essential to winning the deal. With a configure, price, quote (CPQ) solution, you can automatically provide these recommendations to your sales reps and help them become configuration experts.   
2. Pricing 
In the QTC world, pricing refers to the rules that dictate how sales professionals can best price a deal. Of course, identifying the right price for your products is only half the battle. You must also apply the correct set of discounts, promotions, and incentives that win you the customer—without cutting into margins—is essential to driving revenue.  
A CPQ solution can help to uncover the pricing and promotion strategies that were successful in the past, so sales reps can apply that winning strategy to future deals. The end result: a higher win rate and increased deal size.   
3. Quoting 
Quotes are one of the most important steps in your sales cycle and often serve as a customer's first impression of your business. While presenting a quick and accurate quote can help you win a deal, a slow quote that's riddled with errors might just lose you a customer. During the quoting phase of the QTC process, a CPQ solution empowers your teams to create on-brand and error-free quotes that delight your customers.  
4. Contract creation 
In the next phase of the QTC process, a secure contract is created to capture details of the deal. All deals require an agreement that spells out the agreed-upon terms and conditions—but creating business agreements manually can carry a lot of risks and can seriously impact your revenue streams. When it comes to protecting your business, the details matter—so a document generation solution is key to keeping the QTC process safe and efficient. 
As contracts are created, it's also important that the right people have visibility into contract terms (renewal and termination clauses, for example) and contract status at any given time, to mitigate risk and streamline approvals.    
5. Contract negotiation 
If you have ever been involved in contract negotiation, you know that every contract is a living, changing document. During the contract negotiation phase, it's critical to manage redlines from all contract parties and implement strict version control—all of which is difficult without a contract lifecycle management (CLM) solution. 
Once you begin contract negotiations, it's critical to have granular visibility into what's changing in each iteration of the contract. A CLM can automatically provide this information to your legal team, cutting down on manual tasks that waste valuable time.  
6. Contract execution 
The next step in the QTC process is contract execution, where you obtain the necessary approvals on the final contract. As more and more business is conducted virtually, capturing signatures can be a significant roadblock in the sales cycles, slowing down your time to revenue.  
By enabling an eSignature solution, you can drastically reduce the time spent obtaining signatures to finalize contracts. An effective eSignature tool provides visibility into when contracts have been delivered and viewed, and which parties have yet to sign—so you can follow up accordingly. 
7. Order fulfillment 
Once the contract has been signed, operations can jump into gear to ensure that the products are delivered promptly and accurately. An integrated, automated system provides a holistic view of the customer's journey, to ensure that any changes to the order are reflected in the final product delivery. An end-to-end QTC solution will also help to ensure that the agreed-upon quotes, pricing, and contracting terms are communicated to the necessary parties.   
8. Billing 
In the billing phase of the QTC process, charges are calculated and invoices are sent to the customer to ensure on-time payment. Accurate billing is critical to your company's success, as it plays a role in managing cash flow and creating reliable sales forecasts.  
Billing becomes easier with a seamlessly integrated QTC process, because everything captured in the quote (discounts, billing timeframes, etc.) and the contract is automatically passed on to your accounting team.  
9. Revenue recognition 
The revenue recognition stage is when payment is received from the company and the revenue is officially recorded, to maintain an accurate view of profit and loss.  
Recognizing revenue incorrectly carries significant risk. When important details of your contracts—like pricing, net payment terms, and delivery schedules—are shared with your accounting department automatically, your company will be more likely to recognize revenue correctly.    
10. Renewal 
The final phase of the QTC process is managing customer retention and recurring revenue. In many business models, a large percentage of revenue comes from repeat and subscription customers—so it's vital to know when your customers are up for renewals.  
With an integrated, automated QTC process, you'll have deep insights into your quotes, contracts, and renewal data. This allows your business to effectively identify expiring contracts, optimize upsell and cross-sell opportunities, and reduce churn.   
Who owns the quote-to-cash process? 
QTC isn't owned by a single person or department, but by multiple teams, including sales, legal, operations, finance, and more. While each team has a specific role or function within the process, all departments must work together for the process to be seamless.  
By employing a QTC solution, you can easily and seamlessly manage the independent actions that make up the QTC cycle. This enables your salespeople to deliver accurate information to customers, minimize order and invoicing errors, and improve your data analysis and forecasting efforts.  
Benefits of quote-to-cash 
The key benefit of a streamlined quote-to-cash process is efficiency. After all, efficiency has a direct impact on the bottom line. Longer, slower quote-to-cash processes take up more resources, drive up costs, and reduce your ability to predict, monitor, and realize expected revenue.  
It also provides a boost to customer relationships. A dysfunctional quote-to-cash process can drive your customers to seek out competitors that promise a better experience. But with a seamless QTC process, organizations see better customer retention and more customer loyalty.  
Using reliable QTC software lets you streamline, standardize, and optimize the quote-to-cash process—and the end-to-end revenue lifecycle.  
Common challenges in quote-to-cash 
Failure to streamline the QTC process has numerous consequences. Here are some of the most common challenges you might encounter without an efficient QTC process: 
Lost sales due to slow or inaccurate quotes  
Billing errors because accounting teams don't have up-to-date order and pricing information  
Payment delays because invoices are sent out late or contain errors 
Customer complaints caused by mistakes and delays at any point in the process 
Missed cross-sell and upsell opportunities due to a lack of visibility into contact terms and renewal dates 
An integrated suite of end-to-end QTC solutions can help you overcome these challenges, close more deals, and deliver an outstanding customer experience. 
How to find an all-in-one QTC automation solution 
Keeping track of each individual process in different systems is time-consuming and risky, as vital information in the process may be lost or completely forgotten. That's why your business needs an end-to-end QTC solution that will streamline your sales processes, allow for greater visibility for all stakeholders, and improve your time to revenue.    
When searching for a solution, keep these key functions in mind:    
Configuring, pricing, and quoting 
Document generation 
Secure signature capture 
Contract management 
The tools you select should work together seamlessly, to improve efficiency and ensure smooth handoffs throughout the process. They should also operate on a unified data model to eliminate siloes, improve visibility, and provide a single source of truth across the sales cycle. 
Streamline the QTC process with Conga's end-to-end solutions 
The foundation of an efficient quote-to-cash process is automation. With automation, it's possible for teams to quickly and accurately execute all the tasks required within the process. Solutions that streamline your team's workflow will accelerate your time to revenue and improve operational efficiency.    
Conga's end-to-end QTC solution includes a suite of powerful tools that integrate seamlessly—both with each other and with your Salesforce CRM: 
Conga CPQ eliminates manual quoting processes and drives better selling behaviors. It empowers your sales reps to configure complex products and services, deliver accurate quotes, and create smarter deals. 
Conga Composer lets your teams quickly build customized, branded, and personalized documents. What's more, it eliminates manual document tasks to reduce errors, improve tracking, and enhance the customer experience.   
Conga Sign is a modern, compliant eSignature solution. It secures the electronic signatures you need throughout the sales cycle, while increasing security and efficiency. 
Conga CLM lets you streamline and automate the contracting process to accelerate the revenue cycle, while also maintaining control over contract terms and clauses to mitigate risk. 
To learn how Conga's end-to-end solutions can help you streamline the QTC process, eliminate errors, and close more deals, download the Ultimate guide to revenue lifecycle management.