Salesforce Optimizations
Blog
How to accelerate the revenue cycle with contract management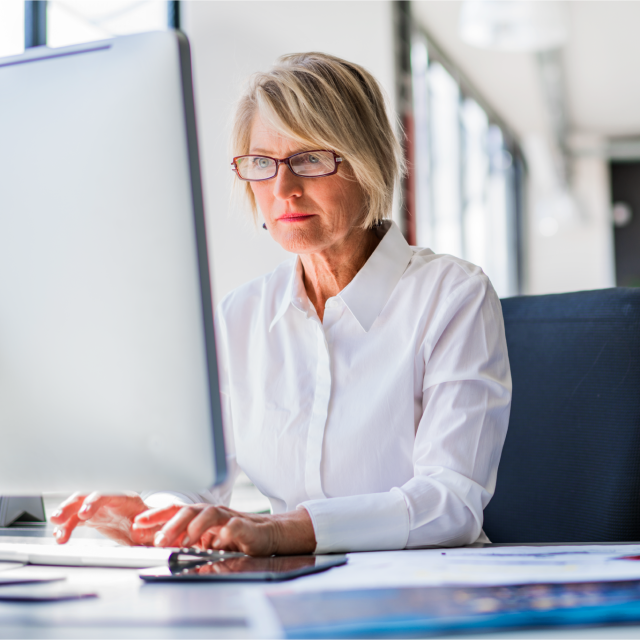 Did you know that on average it can take about 3.5 weeks to get a contract created and approved?  
That time can significantly increase when your contract is stuck in the agreement or negotiation stage. On top of that, it can be difficult to track what's happening with the contract when it has been passed off to your customer or client, leaving sales teams to guess when the contract will be signed, and services can start.  
Not to mention tracking contract redlines and different versions can get confusing. Identifying the right version of the redlined agreement can be burdensome, and nothing is more frustrating than reviewing the wrong version of a contract. These manual tasks take teams away from work that really move the needle.  
Contract management automation can solve these pain points while improving the sales cycle and speeding up time to revenue. Automating the contract creation, agreement, and negotiation process can also help improve visibility into the process, track the various versions and redlines, and allow for a more efficient contract cycle. All together this allows your business to move through the contract phase more easily and start delivering services and solutions sooner.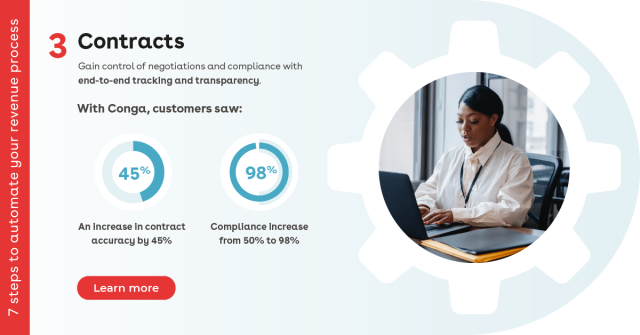 Common challenges during contract negotiations 
With the speed of business increasing, and digital documents becoming an expectation, you can't afford to have an old-school or outdated contract management process. When the contract process and approval workflows are complicated, and there's a lack of visibility, it could slow down the sales cycle and hurt the customer's experience with your business.  
Creating contracts the old-fashioned way can create bottlenecks and silos 
Taking an outdated approach to creating contracts can take a lot of time, effort, and require ongoing collaboration from the sales and legal teams. A manual process can result in many bottlenecks and force teams to work in silos, which ultimately slows down the entire sales process. On top of that, pulling data manually to add to a document could result in errors in information—requiring additional revisions to the contract, and slowing things down even more. 
Plus, there's a risk of teams using templates with old and outdated branding, which can result in an inconsistent experience for your customer and reflect poorly on your company's image. What's more, delivering contracts via email or even mail can risk sensitive, essential information getting lost in the process, so that internal teams and customers alike can only guess at a contract's status in the process.  
Lack of visibility and risk of confusion through the contract process 
As mentioned, sending contracts via email or mail can not only be slow and burdensome, but it also means that teams have no visibility into the contract status or process. Not knowing whether your contract has been received or viewed by your customer can cause a lot of confusion and delays.  
On top of that, tracking redlines in a contract, and various versions, can be difficult if your current process simply includes saving versions into a folder or using a spreadsheet to keep track, leaving teams to sort through the updates manually. Moreover, with all of these important activities taking place outside of a contract lifecycle management (CLM) solution, additional steps are required to update records. Updating the system of record can often get ignored or simply forgotten since there are other priorities that creep up.  
How contract negotiation and agreement automation can help your business 
The contract process is one of the most important steps in the sales cycle. Not only do these documents protect your business, but they outline expectations and get you and your customer on the same page regarding every element of the agreement before you start delivering your services.  
Contract negotiation automation and CLM software can help not only centralize and standardize your contract process, but it can provide visibility for your teams and create a seamless experience for your customers.  
Streamline contracts, end-to-end 
Before your contract gets into your customer's hands, it requires a lot of work from multiple departments in your organization, starting and ending with your sales team.  
This important step in the sales cycle requires sales representatives to create an on-brand and accurate contract with the right terms and conditions from the legal department. One of the best ways to ensure accuracy and efficiency in this process is to streamline the contract creation and approval workflow, so when the contract gets into your customer's hands, it is branded, accurate, and legally sound.  
With Conga Contracts, teams will find collaboration is easy and efficient. Conga's end-to-end contract creation solution integrates directly with your Salesforce CRM, allowing the right teams ownership over the correct parts of contract processes. And keeping your contract creation all in one place ensures that information stays up-to-date and can easily be tracked and accessed by anyone who should have access to that data. 
Contract transparency, end-to-end 
Contract transparency can be a huge problem for teams and can cause a lot of uncertainty as to where the contract is in the process. When implementing a CLM solution, teams across the organization can gain visibility into the contract process and see what updates or changes have been made to the document, whether it is in review with one party or another, and whether it is awaiting signature or has already been signed. 
For example, with Conga CLM, every stakeholder on every contract will be able to view the document's status, review recent redlines, and collaborate with ease on the most up-to-date agreement. Gone are the days of tracking down the latest version, since all changes and updates are tracked in one central location. This single-source solution will eliminate contracting silos, since all teams are able to access the contract status from a unified location.  
Increase time to revenue with an automated contract lifecycle management solution 
No matter how smoothly a sales process goes, one area where the process typically slows down is during the contracting phase. Without the right contract automation solution, it can be difficult to create error-free, on-brand contracts that break down silos and allow for greater visibility into where the contract is in the sales process. Additionally, version tracking can be confusing, and the overall contract lifecycle can be slow, manual, and tedious.  
Automating this process can be beneficial for your customers and internal teams alike. When you start managing your contracts with Conga CLM in Salesforce you'll notice:  
Greater visibility into where contracts are in the process 
Improved customer experience 
Faster sales cycle time and a faster time to revenue 
Fewer manual processes that result in fewer headaches and human errors 
Learn how you can find efficiency with your contract process like never before with Conga CLM.